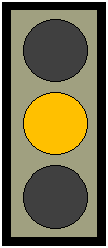 Amber Light
On the road, you are driving ahead, when the light ahead changes from Green to Amber, you need to come to a stop, unless you are too close to the signal to stop.
We can get set in our ways, serving God in set ways...
perhaps we are in Sunday School teaching or something similar and have been for a number of years. God might want us to "stop" and go in a different direction.